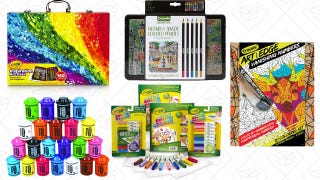 For the musically inclined among you, Amazon's got you covered this Prime Day with a musical instrument Gold Box. Inside, you'll find keyboards, microphones, guitars, and more, all on sale for Prime members. Just be sure to buy your favorites before these deals face the music.

It's time to rock out with your wallet out: Amazon's running a Gold Box deal on guitars, amps, electronic drum kits, and more. The guitars are the stars of this show, and several are available for under $200, so pick one up today so you're ready for your next jam sesh.

As far as metal detectors go, this model from Barska doesn't have a lot of bells and whistles, but at $50, it might be worth picking up if you're curious about the hobby. Plus, if you get really good, it'll pay for itself!

Want to pick up a new hobby? It's easy to get into stargazing with Celestron's AstroMaster 70AZ, which is down to $90 today as part of a Gold Box deal. While there are definitely more powerful telescopes out there, you'd be hard pressed to find a better option for under $100.

You know 3D printing is starting to go mainstream when it gets an Amazon Gold Box deal, so if you've been waiting for an excuse to buy into the hobby, today's a great excuse.
As far as metal detectors go, the Bounty Hunter Gold Digger is a fairly basic model, but at $54, it might be worth picking up if you're curious about the hobby. Plus, if you get really good, it'll pay for itself! [Bounty Hunter Gold Digger Metal Detector, $54]