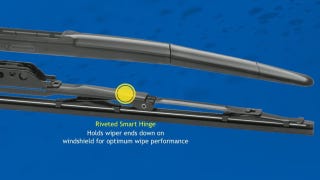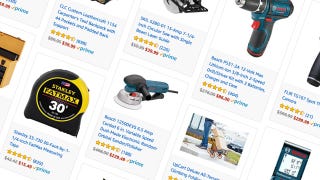 A good drill is something everyone should own, and you can upgrade to this Bosch 18V for $79 today, complete with a bag and two batteries. This model rarely dips below $100, and has never been cheaper, so drill, baby, drill.

Why measure distances with a tape measure when you can measure them with a laser? This Bosch laser measure is one of the smallest you can buy, and measure up to 35' with accuracy down to 1/8".

If you're missing a bunch of drill bits, or the ones you do have are starting to strip, you can pick up 91 new ones from Bosch today for just $25. These are currently listed on Amazon for $30 (within a few cents of an all-time low), but you should automatically see an additional 20% discount at checkout.

If your kitchen or bathroom sink takes too long to get hot water from your existing water heater, there's a surprisingly simple solution: Give it its own water heater! This 2.7 gallon Bosch heater installs directly under your sink, and plugs into a standard power outlet, giving you instant access to all the hot water…
I'm a hobbyist when it comes to wood-working and home-improvement projects, so I'm into these kinds of tools. I own a similar Craftsman unit that has fewer features than this Bosch, and will tell you that even I use it far more than I thought I would. At $62.99, this Bosch DLR130K Digital Distance Measurer Kit is at…
For those of us who prefer to do our own vehicle maintenance, Amazon's running a killer promo on Bosch Spark Plugs. Good plugs are simply not cheap and they are rarely on sale, so this rebate deal is a no-brainer in my book.... and a nice reminder that at least one of your vehicles could likely use a tune-up. The…
Amazon's deal of the Day is this Bosch PS31-2AL1A 12-Volt Lithium-Ion 3/8-Inch Drill/Driver with 2 L-BOXX Cases, 2 Batteries and Charger for $92.99. It gets great reviews and this is its lowest historical price. If you're in need or know someone who is, this is an excellent value. I own the Bosch impact driver of…