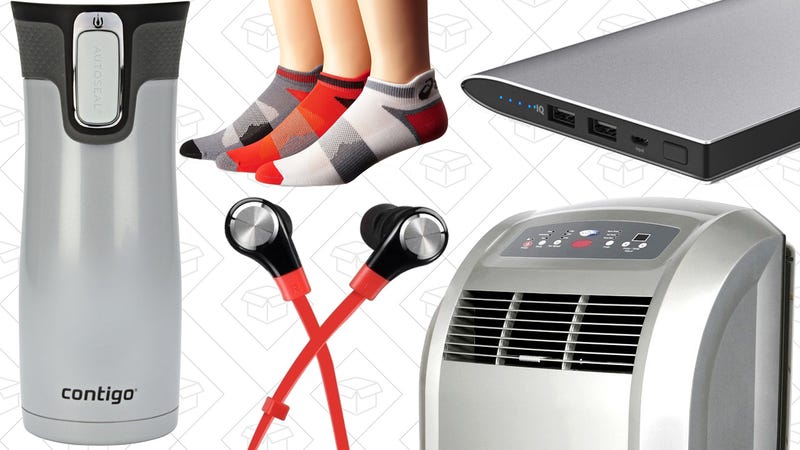 An ultra-thin Anker battery pack, $10 wireless headphones, and portable air conditioners lead off Tuesday's best deals.
Bookmark Kinja Deals and follow us on Twitter to never miss a deal. Commerce Content is independent of Editorial and Advertising, and if you buy something through our posts, we may get a small share of the sale. Click here to learn more, and don't forget to sign up for our email newsletter.

Top Deals
You can't escape the Heat Dome, but you can at least keep it out of your house. Today only, Amazon's Gold Box features deals on a half dozen portable air conditioners.

Each unit can operate as an air conditioner, a fan, or a dehumidifier, and while you will have to use a small window exhaust kit to expel the hot air, there are much easier to install than a window unit, and you can even move them from room to room if necessary. Just note that like all Gold Box deals, these prices are only available today, or until sold out.
---
You know those Purell dispensers you see in office buildings? Now you can have one in your own home for just $9 $10, complete with a full tank of the good stuff. It might seem a little silly, but this would be fantastic for germ-soaked child hands, and I could see installing one of these in a garage or shed where your hands are likely to get dirty.

Update: The coupon is gone, but this is still a great price.
---
The half life of a pair of socks (meaning the time it takes to lose half the pair) is a few months at most, so stock up on athletic socks from Under Armour, Asics, and more in today's Amazon Gold Box.
---
The successor to one of the most popular mice ever made is down to a new low price on Amazon, while supplies last.
Note: We posted this last week for $70, which at the time was an all-time low price, but now it's $2 less.
The Logitech MX Master Mouse comes with all the accoutrements you'd expect form a high end mouse—namely a rechargeable battery, adjustable DPI, and a dark field laser that works on glass—and a few that you wouldn't, like a side thumb wheel for horizontal navigation and gestures, and the ability to connect over Bluetooth to three devices simultaneously.

$68 is the best price we've ever seen, but I wouldn't expect it to last, so click on over to Amazon to lock in your order.
---
The Razer Orochi is billed as a "travel" gaming mouse, but if its compact size doesn't bother you, the specs here look as good as just about any full sized gaming mouse you could buy.

8,200 DPI sensor
Bluetooth connectivity, plus the ability to use it while plugged in
Seven months of battery life
16.8 million color chroma lighting system
Razer Synapse support for full customization
Sound tempting? Today's $45 deal is an all-time low, and about $15 less than usual.
---
While it lacks the brand recognition of the Fitbit Aria, this $33 smart scale can still sync your weight, body fat, and other stats to your phone over Bluetooth so you can track your measurements over time. And if you own an iPhone, it'll even sync to the Health app, so you can integrate the stats with tons of other fitness apps.
---
It would be disingenous to call any 20,000mAh battery pack "small," but Anker's PowerCore Edge is at least thin. A mere centimeter thin, in fact.

Other than the unique design, this is the same PowerCore battery you know and love, so if you need some extra juice for your tablet on a long flight, or your phone during Pokémon Go outings, today's $35 deal is an all-time low.
---
I've never heard of the brand before, but this Monarch wood and glass coffee table looks really nice, and it's only $84 on Amazon right now. Obviously, it won't fit with the decor of every home, but if you like the design, it has great customer reviews.
---
No, this Honeywell thermostat doesn't look like a futuristic work of art like the Nest Learning thermostat. But that's easy to forgive when you realize that it still includes Wi-Fi, meaning you can program and control it from your phone, and costs less than $90.
---
While supplies last, you can bundle and save complete on complete 5.1 high-end speaker systems from JBL.

You've got two bundles to pick from today: One that uses bookshelf speakers as the mains ($1399), and one that uses tower speakers instead ($1899). In either case, you're saving well over $1,000 vs. buying the speakers a la carte, and you even get a pair of Harman Kardon SOHO Bluetooth headphones to boot.
---
Do you like bacon, eggs, and pancakes? You'll be able to buy enough to make you sick with this discounted IHOP gift card.
---
Vantrue's R2 dash cam was The Wirecutter's runner-up pick, and you can save a whopping $50 on yours today with promo code VANTRUE2, bringing the price down to $100.
The R2 can shoot at resolutions exceeding standard 1080p (2560x1080 or 2304x1296), and its 170 degree field of view means you'll never miss a license plate, crash, or meteorite. This deal is a match for the best we've seen on this model, so grab yours while you still can.
---
As long as you don't mind buying a refurb, VIZIO's SB3851 38" 5.1 surround sound system is on sale for $169 on Amazon right now. I own this exact system, and absolutely love it, as do many of our readers.

The system's three front audio channels are housed in an attractive 38" sound bar, while the two satellite speakers connect to a Bluetooth subwoofer, meaning you don't have to run any cables from your TV to the back of the room to enjoy true surround sound (though to be clear, you do have to plug the satellite speakers into the subwoofer). The best part? You don't even need a receiver to operate this thing; it'll plug straight into your TV.
There are surely systems out there that sound better or offer more options, but for the majority of non-audiophiles, this system is basically a miracle for the price.
---
If you missed out on Prime Day, Bose's highly-rated SoundTrue II around-ear headphones are back down to $100 today, matching their all-time low price.
---
Mpow basically invented the cheap Bluetooth earbud market, but even by their standards, $10 is an amazing price (with code QUE7TESP). Mpow's Petrels include Bluetooth 4.0, 5.5 hours of battery life, and a sweatproof coating so you can wear them to the gym (or just for a walk outside during the heat dome).
---
We've seen a lot of deals on Bluetooth car receivers, but I don't think any of them have looked as nice as this model from Aukey. It even lets you pair two phones at once, and comes with a three-port USB charger to keep all of your devices charged as well. Just note that your car will need an AUX jack for this to work.
---
If you hurry over to Amazon, a third party seller is offering a 16 ounce Contigo Autoseal West Loop travel mug in white for $12, the best price we've seen.

If that sells out, or if you don't like the color, several other colors are available directly from Amazon for just $1 more. In case you weren't aware, this is our readers' favorite travel mug by a wide margin, and can keep a drink hot for four hours, or cold for up to 12.
---
Several Miyazaki classics are down to $15 or today on Amazon, which is about as low as they get, with few exceptions. You can't go wrong with any of them, and really, you should own all of them. Let us know your favorites in the comments!
---
The Nexus 6P is still the Android phone for everyone, and Amazon's taking $100 off the 64GB and 128GB models today. Whichever you choose, the phone will come unlocked out of the box, and is fully compatible with all four major U.S. carriers.
---
American Apparel may still have a bad reputation, but there are still some hidden gems in between the lawsuits and spandex. And, a lot of them happen to be on sale right now.
---
Update: Also available for $3 each on eBay.
This ingenious little multitool looks like a house key, but is actually three screwdrivers, two small knives, and a bottle opener. At $9 for a 2-pack, why not?
---
Free money is free money, y'all. Any time you can get a discounted gift card, I think it should be worth mentioning. Get this $50 JCPenney gift card for only $40. That could go a pretty long way.
---
Your GoPro longs to go everywhere with you, and with this ridiculously-affordable accessory kit, it finally can. It's also worth noting that these accessories will work with any action cam that uses a GoPro-style mounting system, like the Yi Action Cam.
---
Magnetic vent mounts have been a hit over the last year, and this $5 model from Mpow (with code D3TVTGD6) actually ships with an (optional) iPhone 6/6s case with a built-in magnet. That's a great price even without the case, so don't be afraid to pull the trigger if you use a different model of phone.
---
Even if you're not the biggest Kate Spade fan, you'll be able to find something in the vast sea of polka dots and stripes that is the 75% off Surprise Sale. There are so many styles and colors to choose from that even if you were kind of wanting a new bag (or wallet, or passport holder, or watch), this sale will convince you that you definitely need one.
FYI: You do have to enter your email address, but getting emails from them is also the only way to find out when the next surprise sale will be.
---
Indochino is your favorite custom clothing company, and this week they're offering Kinja Deals readers their best shirt pricing ever. $279 gets you five shirts with promo code KINJA5. Read more about the deal here.
Some of our peers have Melania'd the discount we launched with Indochino back in May, so we can't call it an exclusive anymore. However, it's still the best pricing they've ever offered, so if you missed out last time or want more suits, here's your chance. Read more here.
---
The complete Firefly DVD is still available for an all-time low $13, but if you're ready to chuck physical media out into the black, you can buy the full series (season) for $10 on Amazon and iTunes right now.
---
Running low on digital storage space, or just want to start keeping better backups? Amazon's marked the 2TB WD Elements external drive to $70, which is about as low at that capacity ever gets.
---
If you enjoy eating at Chili's, Macaroni Grill, Maggiano's, or On The Border, this discounted Brinker gift card is basically a free entree.
---
Another huge sale from Timbuk2 brings a ton of their excellent bags down to hard-to-resist levels. Be sure to let us know what you pick up in the comments.
The "midway" colorway of one of your five favorite carry-ons is down to $159.
A few colors of your favorite messenger bag, the Commute/Command lines, are also discounted.
---
These cheap LED lights can stick directly into your grass to light a path to your front door, and since they include built-in solar panels, you won't have to run any wires or replace any batteries. $18 for a 2-pack is one of the best deals we've seen on a product like this.
---
If you've never checked out Nordstrom's Anniversary Sale, you're missing out on some pretty awesome savings. The retailer puts a bunch of Fall and Winter styles on sale way before they go into the stores. Once the sale is over, you'll only be able to get them for full price, so you'd better get on it.
---
2200mAh is about as small as USB battery packs get, but this one includes a built-in Lightning connector so you can plug it directly into the bottom of your iPhone.
---
You've heard of Automatic's smart driving assistant, but if $80-$100 is too rich for your blood, this cheap OBD2 dongle connects to any iPhone or Android device over Wi-Fi, and can fulfill many of the same functions using various third party apps.
Tech
Storage
Power
Audio
Home Theater
Computers & Accessories
Mobile Devices
Photography
Home
Kitchen
Tools & Auto
Lifestyle
Apparel
Beauty & Grooming
Camping & Outdoors
Media
Movies & TV
Books
Gaming
Peripherals
PC
PlayStation 4
Xbox One
Board Games
Toys
---
Commerce Content is independent of Editorial and Advertising, and if you buy something through our posts, we may get a small share of the sale. Click here to learn more, and don't forget to sign up for our email newsletter. We want your feedback.