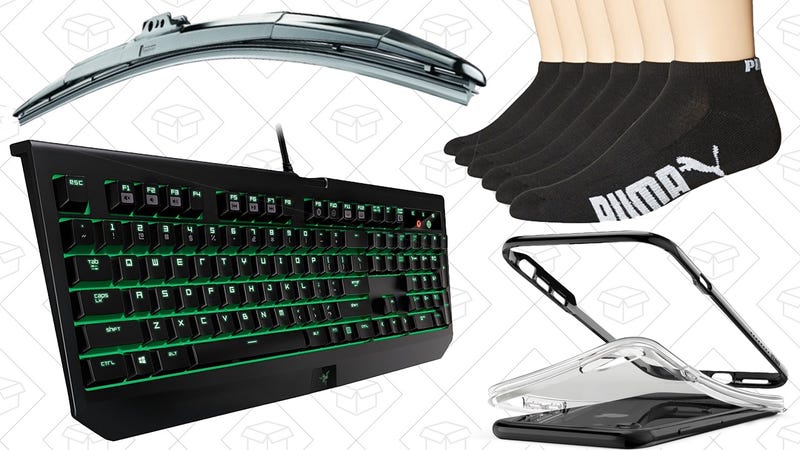 Michelin wiper blades, Razer's quietest mechanical keyboard, and PUMA clothing lead off Tuesday's best deals.
Bookmark Kinja Deals and follow us on Twitter to never miss a deal.

Top Tech Deals
Wi-Fi range extenders can't work miracles, but if there's one spot in your house with spotty coverage, they can be a much cheaper solution than buying a new router. So for $20, why not give this one a try? Most complaints about this model seem to stem from its setup process, but if you can get through that, people seem to like it.
---
USB charging hubs basically come in two varieties: Ones that plug directly into the wall, and ones that use an extension cord. This model from RAVPower is one of the only ones I've seen that can do both.
---
Anker's new Ice-Case Lite for iPhone 7 combines a flexible shell with a reinforced bumper for superior protection in a thin and light package, and you can get one for $7 with promo code KINJAICE, for two days only. You even get to pick from gunmetal, black, and rose gold.
---
Anker's new PowerDrive Speed 2 can charge two devices with Quick Charge 3.0 simultaneously, and it looks really nice to boot. For a limited time, get it for $22, or about $4 less than usual.
---
Google Home is the smart speaker that Google devotees have been clamoring for, and if you buy two of them from B&H today for $229, or about $30 off (plus no tax outside of NY and NJ). These smart voice-activated speakers work best when they can hear you all around the house, so once you buy one, you'll probably end up wanting a second eventually anyway.
---
Amazon's own attempt at a metal laptop stand is a little jankier looking than, say, the Rain Design mStand, but it's far cheaper at $15 ($5 less than usual), and accomplishes the exact same thing.
---
Most laptops don't have CD drives anymore, which is mostly fine, except for that one time that inevitably pops up every year or two where you really wish you had one. Now, you can for just $22, no extra power cable required.
---
The Razer Blade Stealth ultrabook isn't actually all that great a gaming laptop (unless you buy the Razer Core external GPU, but, come on), but it is a fantastic high-end general purpose laptop, with build quality that rivals Apple, 16GB of RAM, a 512GB SSD, and a 12.5" 4K display.