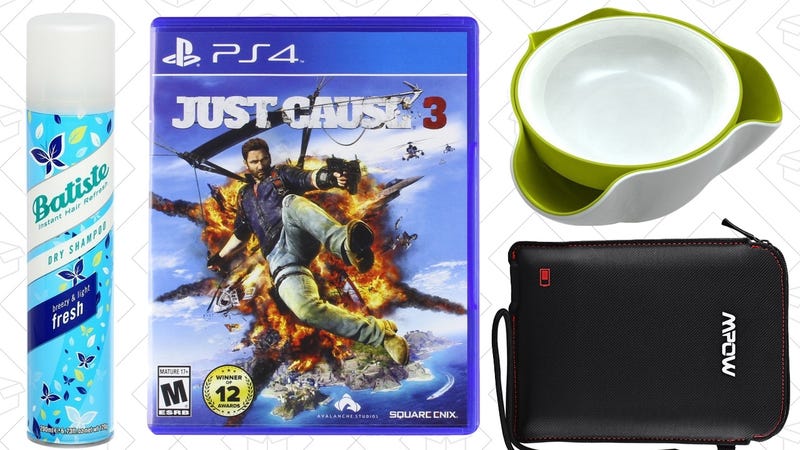 A clever snack bowl, a charging case for your Bluetooth headphones, and Just Cause 3 lead off Friday's best deals from around the web.
Bookmark Kinja Deals and follow us on Twitter to never miss a deal.
Top Tech Deals
The advent of inexpensive Bluetooth headphones has been a net positive, but there's no getting around it: They're a pain in the ass to charge.

Luckily, Mpow's new headphone carrying case includes a built-in 800mAh battery and microUSB cable, so you can recharge your earbuds while simultaneously keeping them from getting lost or tangled in your bag. Yeah, you'll still need to recharge the case, but this definitely makes Bluetooth earbuds a simpler option while traveling.
---
Sony's MDR line of Bluetooth headphones sold like gangbusters during Deals Week, but if you were holding out for noise cancelling models, Amazon's rewarding your patience today with a $50 discount on the top-of the line MDR100x.

These headphones have all the features you'd expect in a good pair of Bluetooth headphones these days: NFC pairing, 20+ hour battery life, and even LDAC Hi-Res audio compatibility. But the secret sauce here is noise cancellation, including a special mode that lets ambient voices through either at all times, or just when you cup a hand over the right earcup. $348's still a pretty penny, but it's the largest discount Amazon's ever listed on this model in its 6+ months of existence.
---
$19 is a very good price for any 20,000mAh USB battery pack. But when you consider that this one includes Quick Charge 2.0 for your Android devices, it's a no-brainer. You should be able to get 4-5 phone charges out of this thing, making it perfect for sharing during a long flight or camping trip.
---
Say your wireless router can't push a strong signal to every corner of your house, or maybe you own some kind of old set top box that needs an ethernet connection, but doesn't live near the router. A simple powerline adapter is one of your best options for extending a home network, and you can get a great set (with two receivers instead of the usual one) for just $50 today, about $16 less than usual.
---
You've probably heard a lot of fuss about mechanical keyboards lately, and if not, you've at least heard the clicking. If you're curious to try one yourself without dropping a bunch of money, you can get a tenkeyless Velocifire model for $28, or a full-width keyboard for $10 more today.