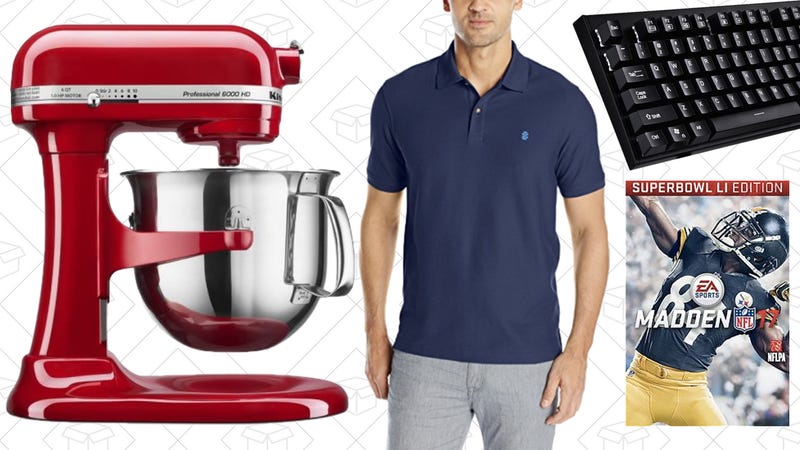 A discounted KitchenAid stand mixer, IZOD clothes for the guys, Madden NFL 17 Super Bowl edition for Xbox One, and more lead Tuesday's best deals.

Bookmark Kinja Deals and follow us on Twitter to never miss a deal. Don't forget to sign up for our email newsletter.

Top Deals
If you still haven't outfitted your kitchen with a KitchenAid, you can get a brand new Professional 6 quart model for just $266, today only as part of Amazon's Gold Box. We occasionally see KitchenAids cheaper, but those are usually refurbished and/or smaller and less powerful models.
---
This Cricut Explore Air Premium Bundle comes with the Cricut Air Machine to print and cut your designs, an iron on kit, and a vinyl kit. Create your own designs to stick placces. Make pillows cheaper than you can buy them from Urban Outfitters. Start your own Etsy shop and get in on the side hustle game. The possibilities are endless, but this deal isn't.
---
Amazon wants to make sure the men of the world are dressing well. Pick up shirts, slacks, polos, and more from this one-day sale on apparel from IZOD, Van Heusen, GH Bass, and more. You'll basically never take more than 20 minutes to get ready again, which still astounds me as to how you do it.

Here are a few styles to check out, but definitely head to Amazon to see the rest, including a good selection of Big & Tall items.
---
Everyone should own a slow cooker, and furthermore, everyone should own a programmable slow cooker. If you're going to be at work for nine hours, but your recipe only calls for six hours of cooking, these will automatically switch to warm mode at the time of your choosing, so you can walk in the door and enjoy a delicious dinner.

This 6-quart model from Crock-Pot is available for an all-time low $27 today when you clip the coupon, but only in the red model.
---
The most popular TV we posted last year was the Samsung UN55KU6300, which includes a 4K panel, smart apps, and even HDR. We saw it get as low as $550, but the nearly identical UN55KU6290 is now on sale for just $500.

The only difference, so far as I can tell, is the UN55KU6290 doesn't have a Smart Remote. If you can live without that, you'd be hard pressed to find a better picture for this price.
---
If you didn't get your PS4 over the holidays, now's your chance to score with this bundle from Newegg's eBay storefront. Pick up a PS4 Slim Uncharted 4bundle with an extra controller for just $250.

---
If your favorite NFL team has already crashed out for the season (and you missed the Gold Box the other day) you can pick up a copy of Madden 17 Super Bowl Edition for Xbox One just $20, and recreate the year as you see fit. Play as the Vikings and sign a better kicker! Move the Chargers to somewhere larger than a Texas high school stadium! Keep Derek Carr healthy! Properly disclose knee injuries! The choices are yours.

---
Normally, upgrading your controller to an Xbox Elite controller will cost you around $150. Even when they're on sale, they rarely get below $120. Right now, pick up a refurbished one for just $90. That's a steal for something that is worth the $100+ price tag.