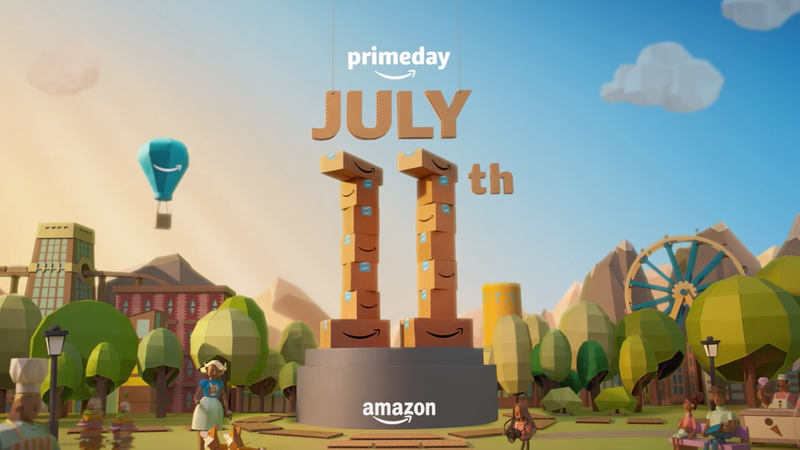 Prime Day is fast-paced and overwhelming, but we're sorting through the deluge all day and night to find the deals that are worthy of your money and attention.

We'll add all of the deals we expect to last awhile below, but many Prime Day Lightning deals sell out within minutes, so be sure to follow us on Twitter for up-to-the-minute updates on the sales that just can't wait.

Top Tech Deals
If you've been in the market to start or expand your Alexa-powered speaker collection, Prime Day doesn't disappoint. Today only, Prime members can score all-time low prices on the Echo, Echo Dot, and Amazon Tap, including an unprecedented $90 discount on the full-sized Echo. That's the first time the smart speaker has ever sold for $90, not including a refurb deal from last weekend.
https://www.amazon.com/Amazon-Echo-Bluetooth-Speaker-with-Alexa-Black/dp/B00X4WHP5E?tag=kinjadeals-20&kinja_price=90
---
While supplies last, all Prime members can purchase a $25 Amazon.com gift card (either physical or digital), and receive a $5 credit in their account within two days. To get the deal, just be sure to hit the "Click to Qualify" button on this page before you purchase your gift card.

Unlike most of these kinds of deals, all Prime members are eligible, so be sure to take advantage before they sell out.
---
You can also save $30 on the new Kindle and Kindle Paperwhite, or $50 on the Kindle Voyage. We see $20 discounts on the lower end Kindles pretty often, but $30 is less common. The Voyage, while only marginally better than the Paperwhite, basically never gets discounts.
There are also big discounts on their bundles, like $50 off the Paperwhite Essential Bundle and $100 off the Paperwhite Travel Bundle.
---
Amazon's Fire tablets are unbelievably affordable even at full price, but with today's unprecedented Prime Day discounts, they're firmly within impulse range.

The entry-level Fire 7 is $20 off, down to just $30. This second generation tablet is thinner and lighter than the (pretty decent!) original, but with improved battery life.
Personally though, I'd spend an extra $20 to get the Fire HD 8. Compared to the Fire 7, you'll get a larger, sharper screen, 50% more battery life, and double the storage.
Both tablets are also available in a variety of bundles as well, all of which are also cheaper than ever for Prime members today.
---
Amazon's new Dash Wand has Alexa built right in, and lets you order groceries and other household goods just by scanning a barcode or using your voice. The best part though? It's basically free.
The Dash Wand will set you back $20 upfront (not bad considering it's a full-featured Alexa voice assistant), but once you register it, you'll get a $20 credit in your Amazon account automatically. It's basically the same value proposition behind Amazon's $5 dash buttons, but the Wand seems infinitely more useful and flexible.
Plus, if you live in a city with Amazon Prime Fresh, buying the wand will get you a 90 day trial membership, so you can fully immerse yourself in Amazon's lazy vision of the future. We posted this when it launched last month, but it's been sold out or heavily backordered ever since, until today.
---
Now that Amazon's touchscreen-equipped Echo Show is out, and seems to be quite good, it's only appropriate for the bundles to roll in. With the Prime Day deal, pick up the Echo Show, plus an Arlo 1 Security Camera that can seamlessly hook up to the Show for $335, or $75 less than normal.
---
Whether you're looking for a massive external hard drive for your desk, a portable hard drive you can slip in a bag, or an internal drive to upgrade your PC, Amazon's Seagate Prime Day sale has what you need.

Highlights include a 2TB portable drive for $60, a 6TB drive with USB ports for $130, and a wireless 3TB NAS for $97, but head over to Amazon to see the full selection.
---
GoPro's lilliputian HERO Session is a very solid $200 action cam, but today, Amazon's tossing in the a handler, a 32GB microSD card, and a headstrap and knocking the price down to $149.

---
You can buy Lightning cables from thousands of manufacturers, but Apple Watch owners don't really have much of a choice but to buy Apple's $29 charging puck. So if you want a spare to keep in your travel bag (I forgot mine for a weeklong trip once, and it sucked), they're 20% off on Amazon for Prime Day, one of the only deals we've ever seen. It's even the fancy metal one that ships with the stainless steel Apple Watches.
---
Yi's original action cam is a longtime reader favorite (as well as mine, for what it's worth), and it's all the way down to $60 today, which is insane for the image quality it captures.

The upgraded 4K model is also down to $159, after a 20% discount is applied at checkout for Prime members.
And for the first time ever, the insane 4K+, which bests the GoPro Hero5 with 4K/60 recording, is also on sale.
---
SanDisk's 256GB microSD card is currently the highest capacity card that you can buy, and at $105 for Prime members, it's never been cheaper. That'll hold a lot of Nintendo Switch games.

Now, I might not buy this card unless I was planning on using all of the space, since you can get a 128GB card for $36, or 200GB for $81 right now, but that's the price you pay for being on the cutting edge.
---
Tile is the ultimate device for anyone who can't stop losing their things, and you can get two for an all-time low $30 right now for Prime Day.
If you aren't familiar, you just slide this thing into your wallet, keep it in your car, stick it in your luggage…anything you frequently misplace, and the Tile app on your phone can ping them over Bluetooth and cause them to beep until you find what you're looking for. And if your lost item is outside of your phone's Bluetooth range, it'll show up on a map automatically any time another Tile user comes into range.
For context, the best price we've ever seen on a single Tile Slim is about $24, so you're barely paying a premium today to get two of them.
---
Whether you're looking to start a podcast, or just want your Skype calls to sound better, the Blue Yeti is one of the most popular mid-range USB microphones you can buy. If you're a Prime member, you can choose from multiple colors for $90, one of the best deals we've seen.

---
Range extenders aren't a cure-all for your home network, but if you have one or two spots in the house that just doesn't get good reception, they're an inexpensive way to fill in the gaps. This model from TP-Link has great reviews, and at $30 (after a Prime-only $15 discount), it's never been cheaper.
---
The Logitech M510 doesn't have any bells or whistles, but it was one of your favorite desktop mice because it's solid. And at $14, it's even more solid. Chose from black, blue, or red.

---
Update: Back in stock, with a backorder.
Assuming your computer can handle it, a 4K monitor is one of the best upgrades you can make to your computing experience, and it's never been cheaper than it is today on Amazon.
For one day only (or until sold out), you can get a Samsung 28" 4K display for just $280. That's one of the first times we've seen a 60Hz 4K display drop below $300.
---
Wi-Fi smart plugs have been around for awhile, but only now are they getting small enough to only cover up a single outlet. The new TP-Link Smart Plug Mini is the same TP-Link Smart Plug you know and love, but you know, miniaturized.

These allow you to enable and disable any power outlet remotely from a smartphone app, on a schedule, or even with Alexa. Just be warned, once you start buying these, you'll want to automate everything in your house.
Today's Prime Day deal is $10 less than usual, and one of the best we've seen.
The original is also $5 cheaper, if you don't mind blocking the adjacent outlet.
---
The successor to one of the most popular mice ever made is within a few cents of its lowest price ever, while supplies last.
The Logitech MX Master Mouse comes with all the accoutrements you'd expect form a high end mouse—namely a rechargeable battery, adjustable DPI, and a dark field laser that works on glass—and a few that you wouldn't, like a side thumb wheel for horizontal navigation and gestures, and the ability to connect over Bluetooth to three devices simultaneously.

$60 is the best price we've ever seen, but I wouldn't expect it to last, so click on over to Amazon to lock in your order. Note: Discount shown at checkout.
---
Anker makes basically all of our readers' favorite charging and affordable audio gear, and their Prime Day deals don't disappoint.
There are way too many to list here, but we've rounded up all the deals over on this post, including your favorite Bluetooth speaker, a popular robotic vacuum, a portable laser projector, and of course, all the charging gear you could possibly need.
---
If you're in the market for a Chromebook, Prime Day's the day to buy it. Several models are on sale for Prime members right now to fit just about any budget, with a few Android tablets thrown into the mix as well.
---
If price has been the barrier to entry keeping you from better audio, here's another Lightning Deal opportunity to grab Status Audio's CB-1s for their best price ever, $63.

Status is a direct-to-consumer headphone company, building great cans in proven form factors without the markup that comes with popular brands. In fact, there's no branding here whatsoever.
The CB-1s are extremely comfortable out of the box, more so (for me) than the ATH-M50X, MDR7506, SR60e, or V-MODA Crossfade Wireless, just to name a few off the top of my head (ha!).
The CB-1s have a (relatively) flat frequency response that's great for listening to a variety of music or audio/video editing, with a wide sound stage in a closed back design. I get good isolation/seal with the updated pads. The inclusion of two detachable cables- coiled and straight, is also generous and welcome. Even better that they smartly attach with a twist lock.

We know from five years of Kinja Deals that great over-ear, closed back headphones for under $70 is no joke. Depending on what you've shelled out for in the past, they might even blow away your much more expensive pairs.
---
It's 2017, and your headphones don't need wires anymore. Luckily, Amazon's offering up Sony's popular and well-reviewed XB950B1 Bluetooth over-ears for $98 for Prime Day, or about $100 less than usual. This particular set of cans includes an extra bass mode that you can turn on or off, and even a smartphone app that you can use to change your audio settings on the fly.
---
Here's a no-brainer deal to help you get ready for Prime Day. Just reload your Amazon gift card balance for the first time by $100 or more, and get a bonus $10 added to your account. I think you'll find plenty to spend it on starting tonight at 9PM ET.

For all the fine print, click here.
---
If you live in a city with Amazon's same-day Prime Now delivery service, but haven't gotten around to using it yet, they're running a fantastic promotion for new members to celebrate the lead-up to Prime Day.

For a limited time, you can save $10 on your first Prime Now order with promo code 10PRIMEDAY, and receive an additional $10 credit by July 13 to use before the end of the month on another order. Prime Now requires you to spend $20 per order for free two hour delivery, so that means you can basically save 50% on snacks, ice cream, household essentials, and more brought right to your front door.
If the name didn't make it clear, you'll need to be a Prime member to take advantage of Prime Now, but you can sign up for a 30 day free trial here.
Top Home Deals

If you're curious about Amazon Dash buttons, there's never been a better time to stick them around your house. As part of a Prime Day countdown promotion, Prime members can purchase all the buttons they want for just $1 each, down from the usual $5. Plus, you'll still get a $5 credit the first time you use it, meaning Amazon's literally paying you to buy household essentials.
---
Diatomaceous earth is one of the most effective weapons we have against bugs, and Amazon will sell you a 10 pound bag of the stuff for $18, a rare discount from the usual $22. Despite the unspeakable things it does to bugs in your yard, it's actually food grade, and completely non-toxic for humans and pets.
http://www.amazon.com/dp/B00025H2PY
---
Time and time again, Amazon has proven itself capable of making quality, affordable products under their own brand name. This Prime Day, they're marking down hundreds of products from the AmazonBasics line, including a ton of some of your favorites like their packing cubes, batteries, TV wall mounts, and more.
---
Life's too short to vacuum every other day, but luckily, you can pawn that tedious chore off to a Roomba, and the entry level 652 model is marked down to $250 today on Amazon, which is the best price we've seen on any Roomba ever.

From what I can tell, this is basically identical to the entry-level Roomba 650, but with a Lithium Ion battery included, rather than nickel-metal hydride, which should enjoy a longer lifespan and provide fade-free power to the vacuum.
---
If you have any long-neglected home maintenance and upkeep tasks to check off your to-do list, Amazon's offering a flat 40% off any service booked through Amazon Home Services as part of the Prime Day festivities.

Available services will vary depending on your location, but they can include lawn maintenance, cleaning, home improvement, computer help, and more. In fact, Shane has used Amazon to install a TV wall mount. Just note that while you don't have to schedule your service today, it will need to be completed within 90 days to be eligible for the discount.

---
The shower head that came with your home or apartment is probably terrible, and you might not even know it. Experience the difference by upgrading to a 7-setting handheld alternative from Delta today for $20, or a reader-favorite In2ition with Delta's H2Okinetic water agitation system for $103. In both cases, you won't see the 20% discount until checkout.
---
Update: Now up to $32, which is still a good deal.
The Cabeau Evolution was your favorite travel pillow (by a long shot), and you can save 25% on yours for Prime Day.

Unlike cheaper travel pillows that you have to inflate with air, the Evolution is made of memory foam, and wraps all the way around your neck to provide support no matter what direction your head falls when you nod off. You won't win any fashion awards while you're using it, but you won't care, because you'll be asleep.
These pillows almost never go on sale, so if you have any trips on the horizon (or not), you won't want to miss out on this one.
---
I don't mean to alarm you, but you're probably pooping all wrong. Luckily, there's an easy solution: Squatty Potty, marked down to $17 today when you clip the 25% off coupon, from its usual $25.
Squatty Potty is designed to lift your legs into an ideal bowel movement position, and according to Amazon reviewers at least, it really works. I can't really overstate how popular popular this thing has been with our readers over the past year or so, and discounts of this size are pretty rare, so it's time to purchase or get off the pot.
---
If you haven't replaced your metal spring mattress with a giant block of foam that you bought on the internet, what are you even doing with your life? Today only, Amazon's marking this Zinus 12" gel-infused foam mattress down to just $109-$209, with queens checking in at $179.

The mattress is also infused with green tea extract and castor natural seed oil to "naturally retard odor & bacteria."
There's also a Zinus platform bed frame on sale, which lets you use a foam mattress without a box spring.
For more of Amazon's Prime Day furniture sales, click here.
---
Contrary to what you might have heard, you don't have to risk burning down your house to fry a turkey this Thanksgiving. With the right equipment, like this $71 Butterball Oil-Free Fryer. Even better, it doubles as a smoker.
---
This shredded-foam-filled "lounger" is a glorified bean bag. It probably won't end up in your living room anytime soon, but it's a killer addition to a game room/basement/man cave.
---
Anova dominates the sales charts, but in many ways (raw heating power, looks, size, software quality), the Joule sous-vide circulator is actually the superior product, and Amazon's running an unprecedented $40 discount on it, for Prime members only.

The Joule White is actually a new model of the Joule, swapping the original's stainless steel top and base with white plastic to match the rest of the unit. Otherwise, it's exactly the same as the Joule White/Stainless, and usually retails for $20 less at $179. Today's Prime Day sale though is a great chance to save a lot more.
If you don't have any idea what the hell I'm talking about or why you might want to buy this, Lifehacker has a great sous-vide explainer here. Spoiler alert: It's incredibly simple, and the results are fantastic.
---
Ninja's high-end coffee maker has all the bells and whistles you could want in a coffee machine, and you can pick one up for $105 today after a 30% Prime discount at checkout, the best price we've ever seen.

The headlining feature here is Ninja's Auto-iQ system, which automatically adjusts the water level based on the brew size and type you select, but you'll also get a permanent filter, milk frother and tumbler in the box. Just note that this deal is only available today, so don't sleep on it.
---
It's 2017, and your vacuum doesn't need a cord anymore. This Bissell can run at full power for 20 minutes on a charge, can convert to a hand vac for furniture and car seats, and most importantly, is $100 off for Prime members today.
https://www.amazon.com/Bissell-Multi-Cordless-Vacuum-2151A/dp/B06XTDCQ8M/?kinja_price=230
---
If you've been looking for an excuse to replace the office chair you've had for way too long, Amazon's up to 40% off furniture sale can help. Grab a new throne for your home office for as low as $50 from AmazonBasics, Poly and Bark, and Modway. Both style and function are represented, so it's all about what you feel.
---
If you have any DIY or home improvement projects on the horizon, Prime Day's got you covered with nearly two dozen deals on tools and tool kits from Makita, DEWALT, Porter-Cable, Dremel, Black & Decker, and more. Options range from something as small a single torque wrench to full power tool sets, so dive on in and check out your options. It sure as hell beats a trip to Home Depot.

My personal favorite? This 16' tape measure which has a 50' laser distance measure built right in.
---
While at-home pet oral care won't totally replace professional veterinary dental work, it can at least mean fewer expensive appointments, and Greenies make it as easy as feeding your pet a treat. Today only, Prime members can save big on a variety of Greenies treats, including pill pockets.
---
For a limited time, Amazon's running a 20% off Prime Day promotion on our readers' favorite travel mug, which brings the 16 oz. black model all the way down to $11, one of the best prices we've seen. These mugs are cupholder-friendly, easy to clean, and will maintain a hot beverage hot for up to five hours, or a cold drink for up to 12.
https://www.amazon.com/gp/product/B00HZI5XBG?tag=kinjadeals-20&kinja_price=11
---
Recent deals on Instant Pot pressure cookers have proved popular, and with good reason, but if you were waiting on a bigger model to cook for an entire family, the 8 qt. IP-DUO80 is down to an all-time low $90 today for Prime members, the first time it's been cheaper than $129.

---
Who doesn't want to roll their grill up to a BBQ like a great piece of luggage? This portable grill by Coleman is literally called the Road Trip and it's only $100 for Prime members, the best price in months. Even with its cast iron cooktop, it collapses into a super portable, rolling party machine.
https://www.amazon.com/dp/B0009V1BDA?kinja_price=100
---
You have to buy soap, laundry detergent, toilet paper, first aid supplies, and cleaning gear anyway, so you might as well get them delivered to your doorstep while saving a bunch of money. Today only, order $60 in select household essentials, and you'll see a $20 discount at checkout automatically.

Note: Don't miss the tabs at the top of the page; the products are separated into three different categories, but you can mix and match them to meet the $60 threshold.
---
Go ahead and load up on snacks and household essentials, because when you fill a Prime Pantry box with $60 worth of goods, you'll get a $10 discount automatically today.

As always, you can select any five of these items to get free shipping, and both of these deals will stack with any No Rush Shipping credits you have in your account.
---
Waterpik is an easier (and they would argue more effective) way to "floss" between your teeth, and Amazon is once again offering the popular Aquarius model for $40, during Prime Day. That's one of the best prices we've seen, so it's a great time to take the plunge. Your teeth will thank you.
---
If you're still storing your leftovers in discarded deli meat containers, it's time for an upgrade. Rubbermaid's Brilliance and Premier food storage systems are both 25% off for Prime Day.

The Brilliance set features transparent Tritan lids with clasps that double as vents to allow moisture to escape while in the microwave, while the less expensive Premier containers have simpler rubber lids, but are still microwave, freezer, and dishwasher safe. Just note that in both cases, you won't see the final price until checkout.
https://www.amazon.com/Rubbermaid-Brilliance-Container-14-Piece-Leak-Proof/dp/B01JCNETC0/?kinja_price=25
---
Thermos' stainless steel vacuum-insulated can coolers have been a huge hit with our readers over the year, and today only, Prime member can get a 4-pack for just $25. Individually, these never get cheaper than about $8, so this is a great deal if you don't mind sharing. They're even color-coded, so you won't catch any cooties by grabbing your friend's drink.
---
Here's something to light up your Prime Day. A 16-pack of soft white LED lightbulbs (who needs 16 lightbulbs at once? You do, that's who) is only $20. That's one of the best per-bulb LED deals we've seen to date.
---