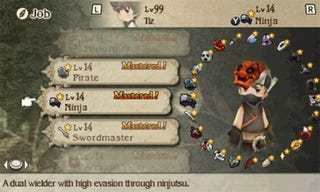 Select 3DS games are buy one get one free today at Best Buy. It's not the entire library of course, but there's Bravely Default, both Pokemon games, Link Between Worlds, and more. [BOGO 3DS Games]
If you don't mind heading into the store, Target will take $15 off a $40 game if you put down $1 toward pre-ordering a another game.
---
More Kotaku Highlights
---
It's superhero blu-ray mania today, starting with the X-Men Adamantium Limited Edition Collection, which packs in six X-Men films, one for each claw. [X-Men Adamantium Limited Edition]
---
Next up is the Dark Knight Ultimate Trilogy Collector's Edition, which as you might imagine contains all three movies, along with three figures of Batman's vehicles and a ton of extras. Down to $39 today. [Dark Knight Ultimate Trilogy CE]
If your personal Jesus Batman was born in the 60s, you can still save by preordering Batman: The Complete Series Edition instead (or in addition to). [Batman: Complete Series]
---
The Man of Steel is next in line with... Man of Steel, and you have two options here:
Man of Steel Collectible Figurine Limited Edition Gift Set ($15) | Amazon
Man of Steel 3D Collector's Edition ($25) | Amazon
---
Still denied a movie or even a blu-ray, at least Wonder Woman gets a deal today. [Wonder Woman: The Complete Collection]
---
A Lannister always pays his debts, but at only $15, you won't incur any if you buy this action figure. [Tyrion Lannister Action Figure, $15]
---
Whether you're a budding podcast mogul, or you just want your Skype calls to sound great, Blue condenser microphones are some of the best in the business , and a couple of their most popular models are down to their lowest prices ever. Compared to your laptop's built-in mic, the difference really is night and day.