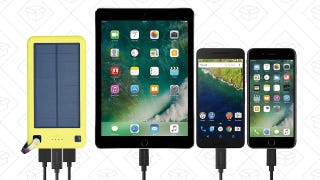 $40 is a great price for a battery pack with Quick Charge 3.0, USB-C, and 26,800mAh of capacity, but it's kind of astounding for this model, which also includes an LED flashlight array on one side, and a freakin' solar panel on the other.

The iPhone 7 has pretty good battery life, but it could always be better. So if you don't want to carry around a USB battery pack and spare cable, this ZeroLemon case can double your phone's runtime for just $17.

I've probably seen more USB battery packs than 99.9% of people living on this Earth, but I've never seen one like the ZeroLemon ToughJuice before. You get 30,000mAh of juice, five (!) USB ports, including a Quick Charge 2.0 port and a USB-C port, and a ruggedized exterior.

If you've been an iPhone owner for any significant length of time, you could probably fill a suitcase with all of your 3' Lightning cables. But for those times that you want to sit back and relax on the couch while still charging your phone, an extra-long 10' cable can really come in handy. Use code OVFXLXGI today to…
We've posted lots of deals on iPhone 6/6s battery cases, but the 7 is just different enough that they won't fit properly. So if your iPhone 7 is struggling to make it through a full day, ZeroLemon's 4,000mAh case is on sale for just $30 today with code 6ZTIK4U4. Not only is that $70 less than Apple's case; its battery…