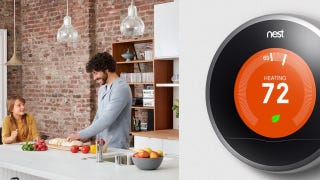 The newest, big-screen Nest Learning Thermostat 3.0 is down to $198 today, which is a match for the best discount we've ever seen. These don't go on sale all that often, so if you have one on your wishlist, I wouldn't hesitate.

The Alexa-powered Ecobee4 smart thermostat is shipping soon, and that means bargain hunters can score a big discount on the still-excellent Ecobee3. If you aren't familiar, this thermostat has basically all the features you'd expect from, say, a Nest thermostat, but includes a remote temperature sensor that gives it a…
While it doesn't have the brand recognition of Nest's learning Thermostat, the Ecobee3 Smart Thermostat one-ups its most popular competitor by including a wireless remote sensor that you can place elsewhere in your house, giving the thermostat a more accurate picture of your home's overall temperature. Plus, it'll…
No, this Honeywell thermostat doesn't look like a futuristic work of art like a Nest or Ecobee. But that's easy to forgive when you realize that it still includes Wi-Fi, meaning you can program it from your phone, order it around with your Echo, and even program it with IFTTT recipes for just $75.
It's not nearly as pretty as a Nest, but Honeywell's Lyric thermostat includes all of the same features (including IFTTT, Alexa, and HomeKit support) for less than half the price. Today's $116 deal would be an all-time low on its own, but promo code BIGTHANKS shaves off an extra $9.

By now, the Nest Learning Thermostat needs no introduction. You probably already know that it almost never gets a meaningful discount outside of Black Friday, so if you've been waiting to get your hands on one, it's officially time to strike.
There have been a few promo code tricks or gift card offers to get the price of the Nest Learning Thermostat down, but today we've got a straight $25 off. This is the best cash discount we've seen, and the best overall deal since Black Friday, so get it before it's gone. [Amazon]