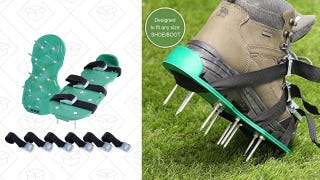 Aeration is an important part of any healthy lawn, and these strap-on shoe spikes make it easy (and cheap). Also great for combat!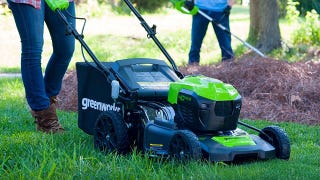 You may not be ready to transition to an electric car, but a lawn mower? Sure, why not?

If you're sick of filling your lawn mower with fuel and changing its oil, Sun Joe's 12A mower is one of the cheapest ways we've seen to make the jump to electric.

Spring is here, which means your lawn mowing vacation is officially over. Edging will be a pain in the ass no matter what, but this 20V cordless Black & Decker trimmer makes it as frictionless as possible.

The Worx Electric TriVac is a leaf blower, yes. But with the flip of a switch, it reverses suction and becomes an outdoor vacuum and mulcher, and Worx's eBay store has marked refurbs down to an all-time low $50 today, just in time to clean up those leaves you've been meaning to deal with.
That 20% eBay coupon is most noteworthy for its luggage steals, but it also works on over 100 items from Worx's eBay storefront. Worx frequently sells new and open box lawn tools at huge discounts through this store anyway, so 20% is a great cherry on top if you need a new mower, blower, trimmer, or anything else.…
GreenWorks' 20-inch battery-powered lawn mower is actually Amazon's top-selling walk-behind mower, and you can own one today for $279, matching an all-time low. That includes two batteries, which combined, should get you over an hour of mowing time.
No matter how beautiful your lawn is, you won't spend much time out there if there's nowhere to sit or eat a meal. If you're tight on space (not to mention cash), this Lifetime convertible bench can convert in seconds from a park-style bench into half of a picnic table, and today's $150 price tag is within a few bucks…