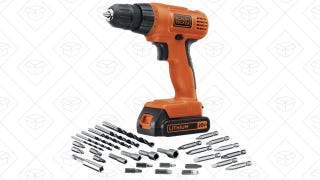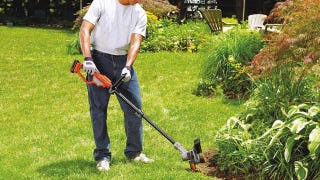 Spring is here, which means your lawn mowing vacation is officially over. Edging will be a pain in the ass no matter what, but this 20V cordless Black & Decker trimmer makes it as frictionless as possible.

Everyone needs a good set of drill bits, and you won't find a better deal than 129 of them for $20.

Spring Cleaning is on the horizon (as it pretending to do Spring Cleaning and instead sit on the couch with the Swiffer leaning against the wall). Make your day worthwhile with Amazon's one-day deal on Black & Decker vacuums. Get one for any need, from handheld to car to stick. But don't wait, these prices with get…
It won't be long until leaves start falling, and you can suck them all up with this Black & Decker blower vac, now down to just $38 for Prime members. This model can create a 230 mph gust of wind to blow leaves and other debris off your patio, or, with the turn of a knob, start vacuuming and mulching them into the…
If you have a small yard, owning a giant gas mower and an edger can feel like overkill. This Black & Decker 12" electric mower though doubles as both, and all for under $100. You will need an extension cord to use it, but assuming you already own one, this is one of the best deals in lawn care.
Your stick vacuum won't do you any good on shelves, in small closets, or in your car, but a small hand vacuum can make up the difference, and these two discounted options from Black & Decker fit the bill perfectly.