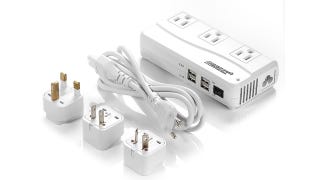 This $12 Bestek power strip plugs straight into the wall without obscuring any extra outlets, and includes three AC outlets plus four USBs. That's should be enough to power everything on your desk at work, or the nightstand by your bed.
You might not need to use it often, but a car inverter is one of those "just in case" things that you should always keep in your trunk or glove box. At $18 with code A893NO8Y, why not?

The best camera is the one you have with you, and with the right bag, it's a lot more likely that camera will be your DSLR. These inexpensive bags can each comfortably hold a body and lens, and the larger model includes additional pockets for more accessories, or even a laptop.