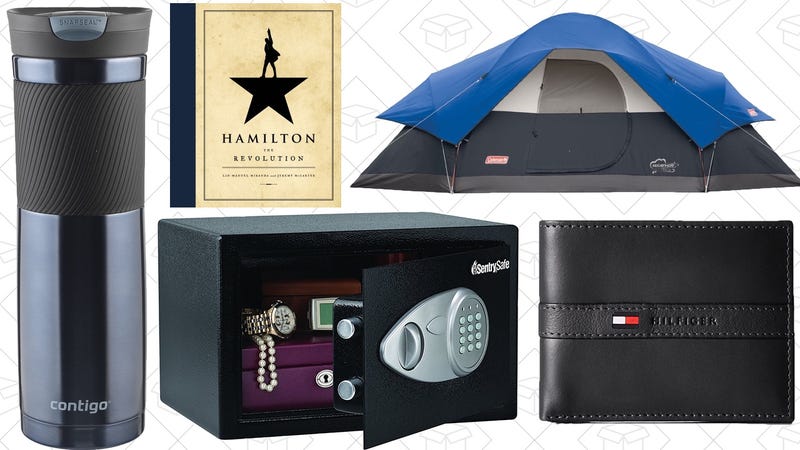 Tommy Hilfiger accessories, Coleman camping gear, and New York Times bestselling Kindle books lead off Sunday's best deals.

Bookmark Kinja Deals and follow us on Twitter to never miss a deal.
Top Tech Deals
If you own a home theater PC, or just occasionally plug your laptop into your TV to watch videos, this wireless keyboard/trackpad combo is an ideal way to control it from across the room. It even seems to work with some smart TVs, but search the Amazon reviews for your specific model to be sure.
---
Update: Now up to $25, which is still a pretty solid price.
Wi-Fi range extenders can't work miracles, but if there's one spot in your house with spotty coverage, they can be a much cheaper solution than buying a new router. So at $22, why not give this one a try? That's within a couple bucks of an all-time low.
---
$19 is a very good price for any 20,000mAh USB battery pack. But when you consider that this one includes Quick Charge 2.0 for your Android devices, it's a no-brainer. You should be able to get 4-5 phone charges out of this thing, making it perfect for sharing during a long flight or camping trip.
---
Earlier this week, our readers bought thousands of phone stands from Lamicall for $6. That deal is still available with promo code 6VGBXP2D, but now, you can get an adjustable model for $2 more with code UVUCS8E3.
---
Phone cameras will never have true interchangeable lenses, but you can still take fisheye, wide angle, and macro photos with this 3-in-1 clip-on lens kit from Anker. Be sure to check out the sample photos uploaded by customers to get an idea of what this kit is capable of.