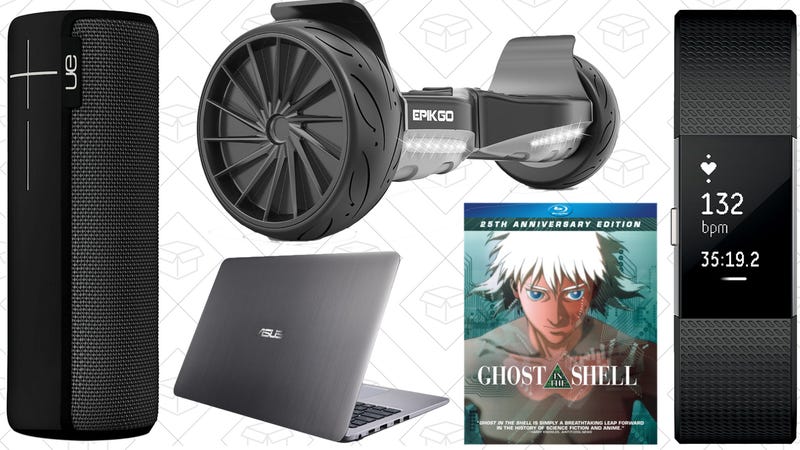 $20-$50 off all Fitbits, a solid gaming laptop for under $800, and the 25th Anniversary Ghost in the Shell Blu-ray lead off Sunday's best deals.
Bookmark Kinja Deals and follow us on Twitter to never miss a deal.
Top Tech Deals
If you're in the market for a new gaming laptop, you'd be hard pressed to find a better value than this $799 ASUS. This model's packing a 15.6" display, Intel Core i7 processor, NVIDIA GeForce GTX 960M graphics, and even a whopping 512GB SSD. Plus, it looks like a normal laptop for a normal person, with none of the neon lights and weird aggressive angles that plague so much gaming gear.

---
The UE Boom 2 is the waterproof sequel for one of the best Bluetooth speakers of all time, and Amazon's marked it down to $107 today, the best price we've ever seen.
---
Great news: You can buy hoverboards without burning down your house now, and EPIKGO's Sport model is on sale for an all-time low $500, today only.

This hoverboard can scoot along at a spritely 10 mph for up to an hour on a charge, and is powerful enough to climb up 18 degree grades. Most importantly though, it utilizes safe LG battery cells that won't start smoldering under your feet. This model has typically sold for $700, and today's $500 deal is only available today.
---
If you've always wanted surround sound at home, but have been scared off by its cost and complexity, Amazon's running the a great deal on Vizio's turnkey 5.1 sound bar system.

This is a newest version of the system than we've written about in the past, but it still has all the same features, plus a few new tricks. The biggest change is the design of the subwoofer; it's now slim enough to fit under a couch, making the system even less obtrusive. It also includes Google Cast support for seamless audio streaming from over 100 popular apps, without futzing around in your Bluetooth settings.