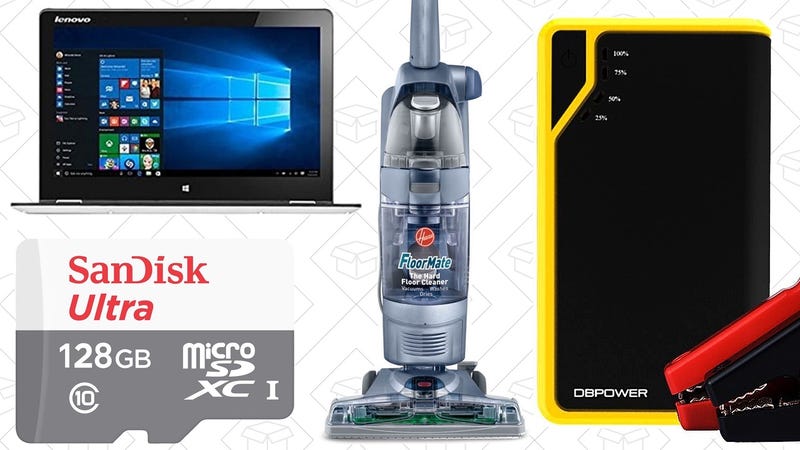 A refurbished Lenovo Yoga Ultrabook, a vacuum that also mops your floors, and a 128GB microSD card lead off Saturday's best deals.
Bookmark Kinja Deals and follow us on Twitter to never miss a deal.
Top Tech Deals
If portability trumps power in your hunt for a laptop, this refurbished Lenovo Yoga is a hell of a deal. $380 gets you essentially the Windows equivalent of Apple's 12" MacBook, with a 256GB SSD, 8GB of RAM, and an Intel Core M low power processor.

---
3M's Precise mouse pad sticks to your desk to avoid slippage, and features a special printed pattern that 3M claims will improve your optical mouse's battery life. It sounds like snake oil, but it boasts a 4.4 star review average from over 1,000 customers, so it might be worth a try.

---
This tiny wireless keyboard and trackpad works with any device that accepts USB wireless keyboards, including most game consoles, home theater PCs, and even some smart TVs. I wouldn't want to write an essay with the thing, but it would sure beat typing your Netflix password with a joystick and onscreen keyboard.

---
$16 is about what you'd expect to pay for a 4-port USB charging hub, but this Aukey model also comes with two AC outlets, so your lamps and laptops don't have to go hungry.
For a more traditional power strip, try this model, which includes four AC outlets and four USBs, plus a 5' extension cable.
---
Need a lot of extra storage for your Nintendo Switch or action cam? The advent of 200GB+ cards means that 128GB cards, which until relatively recently sold in the $60-$80 range, are finally inching towards affordability.
---
Amazon's Alexa is basically the operating system of the home, but to fully appreciate it, you need to scatter Echoes and Echo Dots around your house until they can basically hear your from anywhere. If you're ready to fully commit, Amazon's offering a solid discount on the already-affordable Echo Dot when you buy three.

This was initially supposed to be a one-week promotion, but it seems Amazon's extended the deal at least through April 25.