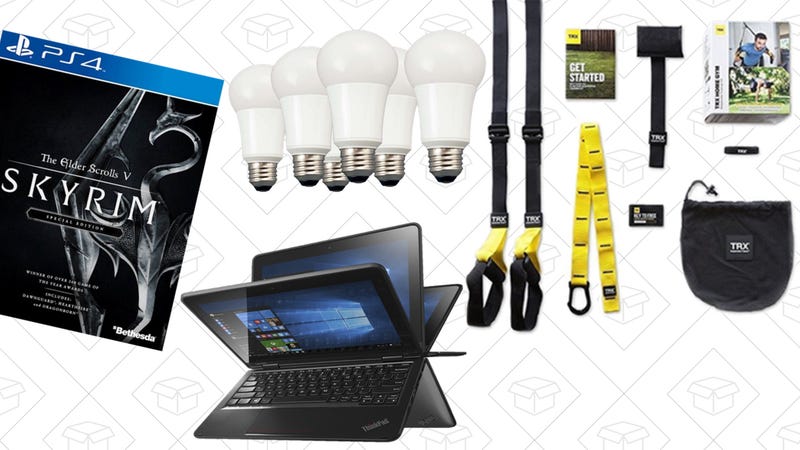 A Lenovo Thinkpad Yoga for under $300, a TRX suspension system, cheap LED light bulbs, and more lead Saturday's best deals.

Bookmark Kinja Deals and follow us on Twitter to never miss a deal. Don't forget to sign up for our email newsletter.

Top Deals
It's not often that Amazon features a laptop as one of its deals of the day, so anyone who uses a desktop at home or work should definitely check out this $270 Lenovo Thinkpad Yoga for their portable computing needs.

Though this laptop runs Windows 10, its price is pretty similar to a lot of Chromebooks, though its 4GB of RAM, 128GB SSD, and power-sipping Intel Core M processor far exceed what you'd find in most of Google's alternatives. The real highlight feature though is its IPS touchscreen. Sure, at 11.6", and 1366x768 resolution, this might not be your main computer. But since it's a Yoga, you can flip it into all sorts of different poses. Need to carry it around? Turn it into a tablet. Finished working on a plane, and just want to watch a movie? Flip it into stand mode to get the keyboard out of the way.
Is it an amazing laptop? No. But it's a very solid deal at $270. Just note that this price is only available today, and it could very well sell out early.
---
When I had surgery on my knee, this was my favorite part of physical therapy. The TRX Suspension Trainer kit can give you a full body workout in your house without the space commitment of an actual home gym, and Amazon's marked it down to an all-time low $100, today only. If you have any fitness-focused new year's resolutions starting soon, this will give you a fighting chance to actually achieve them.
---
Between shedding fur on your seats and a seemingly physiological need to jump into the front seat while you're passing an 18-wheeler on the freeway, it's no secret that a lot of dogs don't do particularly well in the car. So, if you're planning on taking your dog to your parents' house for the holidays, this hammock seat cover can help keep your backseat fur and slobber-free.
---
If you're ready to take the plunge into LED lighting, this 6-pack of higly-rated TCP soft white (2700K) bulbs is down to just $17 on Amazon right now, one of the best per-bulb prices we've ever seen. They aren't dimmable, so you won't want to put them in certain fixtures, but it's a great bulk pack for filling out ceiling lights and lamps throughout your house.

Once you've got them, check to see if your local utility company offers rebates for purchasing LEDs. If so, it's possible these could pay for themselves even quicker than they would otherwise.
---
This sample box is full of everything an expecting family could need. The Maternity Sample box is normally $20, but when you create a child profile on Amazon, they'll mark it down to $10 with a $10 credit for the brands featured in the box. Plus, you'll get a code for a $1 Dash Button.
---
Today only, Best Buy is taking $30 off some of the best video games out right now. Pick up Fallout 4, The Elder Scrolls V: Skyrim Special Edition, Dishonored 2, and more for $30 off.
---
Jackery, despite the silly name, makes many popular and well-reviewed USB battery packs, and one of its newer models is on sale today.

The Jackery Bolt (pictured above) is a little expensive at $22 for 6,000mAh, but it includes a built-in Lightning and microUSB cable, so you won't have to worry about carrying a spare. If you're the forgetful type, that's well worth the price premium.
---
If you didn't get the Xbox One you were hoping for during the holidays, Best Buy's giving you another chance to save big. Pick up an Xbox One bundle and automatically get a free controller, on top of the one that comes with the console. Choose from Battlefield 1 (in either "military green" or white), Minecraft, or Gears of War 4.
---
Best Buy is running a really great (albeit a bit confusing) deal on AppleCare+ and iPad Air 2s. When you add the iPad you want to your cart with the $99 AppleCare+, it'll automatically knock off $150. Basically, you're getting the AppleCare+ for free and taking $50 off the iPad itself.

The benefit of buying the AppleCare+ (besides not paying for it and saving $50) is really extending your repair coverage an additional year, so you don't have to really worry about not being covered.
---
If your home network has more holes than Swiss cheese, Netgear's Nighthawk R6700 features beamforming, USB ports, and up to 1750 Mbps maximum throughput, meaning it's more than enough router for most homes. You can save an additional $20 by clipping the on-page coupon, which brings it down to just $100.
---
Heading out of town and want to deter thieves, or just want to wake up to a well-lit house? This programmable light switch turns any built-in light into a smart light for $17.
This model has 18 settings to choose from, including a "vacation" mode, which will randomly turn lights on throughout the day.
---
Just because you're outdoors and/or floating on a body of water doesn't mean you can't have something comfortable to sit on. This $29 inflatable blob might stretch the definition of "hammock," but it certainly beats sitting in the dirt. This particular model includes a water bottle holder and three side pockets.
---
The Body Shop has sales regularly, but ones that include free shipping are few and far between. Right now, Amazon is offering a 20% off coupon on select products from The Body Shop, plus most of them have Prime shipping. Stock up on some of your favorites and get them in two days, instead of two weeks.
---
Eneloops are the best rechargeable batteries, and since you can never have enough of them, here are eight AAs for $18, the best price ever.