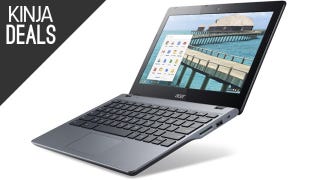 Update 2: It's back!
Update: Sold out
With over 8 hours of battery life and a legitimate Haswell processor, the Acer C720 is one of the best bets in the Chromebook space, and you can get a refurb right now for an eminently reasonable $117.
This deal comes courtesy of Groupon, which is taking 10% off any Groupon Goods purchase with code LABOR10. Granted, this model doesn't have a touchscreen or 4GB of RAM, but at this price, it's basically a disposable backup laptop, not something you'll rely on as your only computer.
Don't forget, Google is planning to bring Android apps to Chromebooks in the near future, which should help shake Chrome OS's reputation as "just a web browser," and make this ultra cheap machine even more useful. [Groupon]